GBA Podcasts Reach 10,000 Downloads
Multimedia Delivery Committee
GBA is celebrating today as the GBA Podcast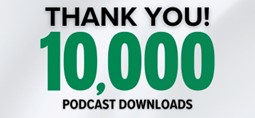 has reached a momentous milestone of 10,000 downloads. GBA podcasts present information and expertise from geoprofessionals around the globe to provide their peers with wisdom and insight to optimize their business and reduce risk.
"This exciting achievement stands as a testament to the growing popularity and influence of the podcasts, which were launched with the mission to enrich the educational landscape and extend GBA Member-Firms' valuable insights to geoprofessionals," said Multimedia Delivery Committee Chair Tiffany Vorhies, NACE CIP2 (SME).
GBA podcasts were the brainchild of GBA's Emerging Leaders Class 4 in 2020.
"We created the GBA Podcast to make the educational opportunities and resources provided by GBA more easily accessible, portable, fun, and engaging," said Vorhies, a member of Emerging Leaders Class 4. "You can download, listen, and learn from anywhere."
GBA podcasts include multiple series, such as:
• Audio Education for Field Representatives
• Case Histories
• Diversity, Equity & Inclusion
• Encore Performances
• COVID Concerns
"If you haven't already, please download a couple episodes and let us know what you think," said GBA Multimedia Delivery Committee Co-Vice Chair Ryan White, P.E., G.E., F.ASCE (PBS Engineering and Environmental Inc.). "And if you have already subscribed, re-download your favorite episode and listen again. You'll learn something new each time you listen. We appreciate your support!"
The five most-listened-to podcast episodes to date are:
1. Case History #64 – Good Communication is Key to a Successful Project!
2. Audio Education #1 – Field Representatives and the Law
3. Case History #108 – Out of Scope Assistance Causes Problem
4. Audio Education #2 – The Duty of Care
5. Case History #103 – Nuked in the Bud!
"I'd love for geoprofessionals to engage with GBA on social media posts about the podcast episodes and tell us if you listened, what you like, and what you want to hear more of," White said.
"The success of the GBA Podcast is a shining reflection of the planning, management, and enthusiasm that GBA members carry into everything they do," said GBA Executive Director Joel Carson. "It's also a testament to the collaborative spirit that GBA promotes among geoprofessionals and a fulfillment of our members' demand to deliver important topics as easily downloadable audio content."