By: Dan Schaefer, P.E. (Froehling & Robertson, Inc.)
I was born and raised in Rochester, New York. After reading the children's book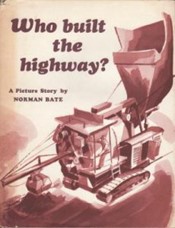 "Who Built the Highway" at an early age, I was hooked and knew that somehow, someway, I was going to be involved in construction. For my seventh birthday, I had been lobbying hard to get a sandbox and some Tonka toys. As it turned out, my dad had a friend in the sand and gravel business, and he had a dump truck full of sand delivered to our house and about half of our backyard became my sandbox. This quickly became a neighborhood gathering spot where my friends and I (and even some parents) spent endless days playing and building. As I got older, I helped out in my father's law office during school vacations, but preferred to walk around the city and watch the different construction projects rise up out of the ground.
Another defining part of my youth was spending most summers in Canada, either at my grandparents' summer house on an island in the St. Lawrence River, or at a wilderness canoe tripping camp in Algonquin Provincial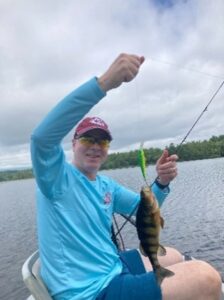 Park that I attended as a youth and also worked at as a counselor into my college years. My summers were filled with fishing, hiking, swimming, sailing, canoeing, camping, and many other outdoor activities with friends and family. I reflect on these summers all the time and how fortunate I was to have this opportunity and freedom to explore.
In high school, I excelled in math and loved various shop classes, especially wood shop, where I made all sorts of household items I still see every day. However, I did not have much career aspiration and thought I might want to be a math teacher someday. That was until one of my father's clients, who owned a pre-cast concrete company, asked me what I like to do. I told him I liked construction, the outdoors and math, and he suggested I seriously consider studying civil engineering in college.
Next thing I knew, I was headed off to pursue a Bachelor of Science degree in civil engineering at New England College in Henniker, New Hampshire. Also at the suggestion of my father's pre-cast concrete client, I worked as a soil and concrete testing technician at Empire Soils Investigations, Inc. in Rochester, New York during the summer of my junior year where I finally got my first chance to work on real-life construction projects and got exposure to geotechnical engineering.
After receiving my BSCE in 1985, I took a job as a staff geotechnical engineer at Empire Soils. Little did I know, I was walking into an environment rich with learning, where I would be mentored by two of the best geotechnical engineers I have come across in my career – Charlie Gaynor and Bent Thomsen. Bent was the owner of Empire Soils and actively involved with ASFE/GBA; he provided oversight and guidance to then-Executive Director John Bachner during development of the Practice Management for Design Professionals text.
During my fourth year at Empire Soils, Charlie enrolled me in one of the first ASFE Introduction to Professional Practice (IPP) courses, which were later renamed Fundamentals of Professional Practice (FOPP). The IPP class opened my eyes to many new aspects of our profession beyond the technical aspects that I had focused on until that point.
After spending five very formative years at Empire Soils, life had some changes in store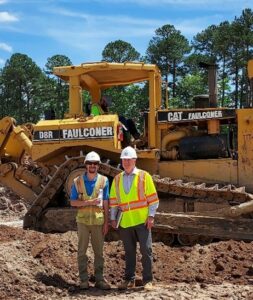 for me. My girlfriend moved to North Carolina and I made one of the best decisions of my life and quickly followed her. I started working as a geotechnical engineer for Froehling & Robertson, Inc. (F&R) in their Raleigh, North Carolina office in 1990. Not long after, my girlfriend, Soleir, became my wife and she has now endured 33 years being the wife of a geoprofessional.
In 2001, ten years (and several promotions) later, I became the branch manager of F&R's Raleigh office, taking over for Ray Whitaker, who had closely mentored me during my first decade at F&R. In 2016, I was promoted to my current position as F&R's Carolinas Regional Vice President, where I have operation and management oversight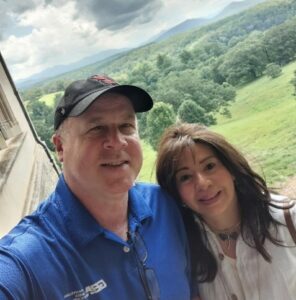 for three offices in North Carolina. This role has given me the opportunity to administer several internal and external-facing programs geared toward improving F&R's business practice. During my early years at F&R,
I was able to complete a master's degree in civil engineering from North Carolina State University and have become a devoted Wolfpack fan.
During my 38-year career, I have been fortunate to receive close mentoring and be involved with all sorts of construction projects. I have honed my skills in geotechnical engineering, construction inspection and materials testing, and even some environmental consulting. In addition to my management duties, I continue to serve as a senior engineer on a wide variety of site development, building, and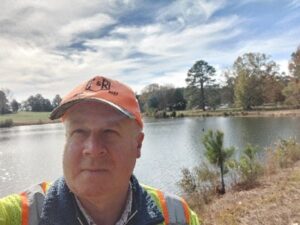 transportation projects with particular emphasis in foundation, retaining wall, pavement, and slope design. I feel fortunate to have been exposed to ASFE/GBA at a very early age and have been actively involved with GBA for almost 20 years now.
There are many things that have contributed to my professional success, and I list my involvement with GBA as being near the top of the list. I have made lasting relationships and learned so much about how to be a better geoprofessional and provide better service to our clients through my association with GBA.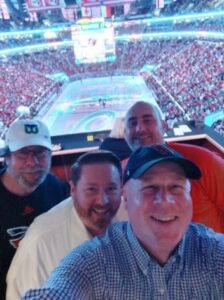 Another defining aspect of my career is having excellent mentors each step along the way who have taken the time to teach and nurture me. These positive experiences have been a catalyst for me to actively be a mentor to others, both at work and in my personal life. I was fortunate to have great mentors find me, and my advice to early professionals is to seek out and engage mentors … even if they do not find you, as was my experience. My mentors encouraged me to explore new things and coaxed me to the edge of my comfort zone, which is where you will really start to learn, grow, and develop a fulfilling career. Don't be afraid to explore the boundaries of your knowledge.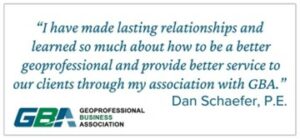 GBA started connecting people from different companies and similar job titles together to form Peer Groups in 2020. Since that time, there have been several long-standing, successful Peer Groups of CEOs, COOs, CFOs, and HR specialists. Participants report participating in GBA's Peer Groups have been formative and have supported professional development and career advancements.
We are ready to take the next step as we launch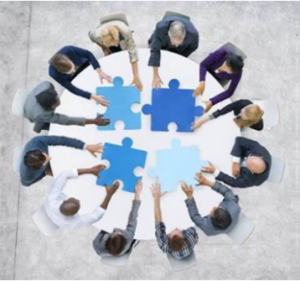 more Peer Groups for 2024, and this is your opportunity to participate.
If you are looking for a way to meet people with similar job responsibilities, compatible experiences, and a willingness to collaborate for the benefit of all, please let us know!
Peer Groups
An ideal Peer Group includes six to nine people with similar titles, from different companies of similar sizes from different geographies. The group meets four to eight times annually to discuss common concerns, collaborate on challenges, and identify opportunities for personal and professional growth and company improvement. Meeting frequency, platform, duration, and facilitation are determined by the Peer Group, but Best Practices will be shared by GBA.
Benefits of Participating in a Peer Group
Becoming a member of a GBA Peer Group can offer numerous benefits and opportunities for your personal and professional growth and support the success of your company. Reasons why joining such a group can be valuable include:
1. Networking: GBA Peer Groups provide an excellent platform for networking with geoprofessionals who share similar interests and goals. Connecting with like-minded professionals can lead to new collaborations, partnerships, and access to valuable resources.
2. Knowledge Sharing: GBA Peer Groups offer a supportive environment where members can exchange knowledge, experiences, and best practices. Through discussions, and presentations, you can gain insights into geoprofessional industry trends, emerging technologies, and innovative approaches, which can enhance your contributions to the success of your company.
3. Leadership Development: GBA Peer Groups often provide opportunities for leadership. By interacting with experienced professionals, you can learn from their expertise, acquire new skills, and improve your professional capabilities.
4. Emotional Support: Professional GBA Peer Groups can offer a sense of belonging and understanding. You can share your challenges, successes, and concerns with people who can relate to your professional journey. This support system can help you navigate obstacles, gain perspective, and find encouragement during difficult times.
5. Career Advancement: Being part of a professional peer group can enhance your professional visibility and reputation. Engaging in group activities, contributing to discussions, and demonstrating your expertise can raise your profile within the industry. This increased visibility can open doors to new career opportunities and advancement.
6. Collaboration and Partnerships: Collaborating with peers who have complementary skills or expertise can lead to joint projects, partnerships, and business opportunities. By leveraging the collective knowledge and resources within the group, you can undertake larger initiatives and achieve greater success.
7. Professional Inspiration and Motivation: Interacting with ambitious and motivated professionals can inspire you to set higher goals, strive for excellence, and continuously improve yourself. GBA Peer Groups create a positive environment that encourages personal growth, accountability, and achievement.
Overall, joining a GBA Peer Group can provide you with a supportive network, valuable knowledge, growth opportunities, and a competitive edge in your field. It is a valuable investment in your professional development and can contribute to your long-term success and to the success of your firm.
Next Steps
GBA is accepting names of interested individuals to participate in future Peer Groups, which are forming now for 2024. We will then host an information meeting for each Peer Group, discuss the guidelines, and introduce a facilitator.
Let Us Know If You Are Interested
Peer Groups are forming quickly. If you have questions or are interested in exploring a Peer Group, please send your name, title, and contact information to Joel Carson, GBA's Executive Director.
Note: AI generated text may be included in this article.
Two GBA leaders contributed timely, thought-provoking articles to the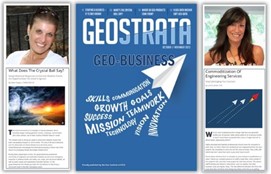 latest issue of the Geo-Institute's GEOSTRATA magazine, which focuses on geo-business.
Helen Pappas, CHMM, ENV SP (BEM Systems), Chair of GBA's Emerging Issues and Trends Committee, wrote an article on the key takeaways from the most recent GBA Crystal Ball Workshop held in Spring 2023.
In "What Does the Crystal Ball Say?" Helen writes how more frequent and severe extreme weather events will reshape the response of geoprofessionals to the effects of climate change. New ways of incorporating resilience and adaptability in our engineering practice must be embraced, now more than ever. The article describes challenges to successful market engagement and pathways to opportunity to geoprofessionals gaining a seat at the planning table as "resilience specialists."
READ "WHAT DOES THE CRYSTAL BALL SAY?"
June Jewell, CPA (AEC Business Solutions, LLC), a member of GBA's Business Practices Committee, penned a piece on commoditization of engineering services. June writes about competing on price vs. value and the pressure to lower fees while expenses are rising, and reviews  the recent economic past and bad habits that brought us to this moment. She points to GBA's Elevate Professional Value Accord as one solution to help firms recognize their value and indicate their commitment to a set of business management principles.
READ "COMMODITIZATION OF ENGINEERING SERVICES"
By: Carrie Foulk, P.E., G.E. (BSK Associates)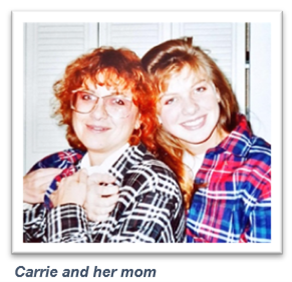 I grew up crisscrossing the West Coast from the San Francisco Bay-area to Salem, Oregon, to Fresno, California to Seattle, Washington. As I watched my single, working mom navigate the world in the '70s and '80s, I knew I could be anything I wanted to because she emulated that for me. There was never a question of if I could be a professional one day.
As a child, I was interested in art, science, sports. I was good in school and really enjoyed my STEM classes. I played a lot of basketball in middle and high school, which I was never very good at.
Now, my daughter's a college sophomore and my son is a high school senior. Despite both their parents being engineers, neither of them chose to pursue that career, so I'm not sure what that says! My partner and I live in Livermore, California – an interesting place with about 50 wineries and two nuclear weapons laboratories. We've got a large number of PhDs and a large number of cowboys.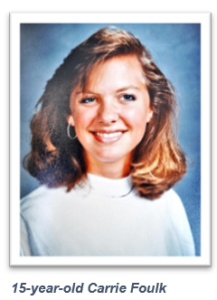 At this time in my life, I do spend a lot of time working, but in my spare time, I read, exercise, walk my dog, watch local sports teams, listen to podcasts, and announce at my son's lacrosse games.
Carrie's Journey to Geotechnical Engineering
My sometimes-circuitous path to becoming the geotechnical engineer I am today started when I was a junior in high school. I took a chemistry class that got me jazzed about how the world worked and I thought I wanted to be an environmental engineer because I wanted to save the planet.
I attended a community college in the San Francisco Bay-area for two years, which was an amazing experience. I'd recommend it to anyone. Everything I did there transferred to an engineering degree at the University of Washington in Seattle. I rowed crew there (where I found I enjoy suffering) and I got my civil engineering bachelor's degree. After taking a few classes in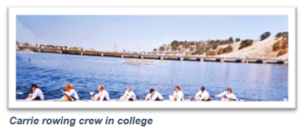 environmental engineering where we talked a lot about waste – in particular, human waste – I decided I wasn't as interested in pursuing environmental engineering anymore and set my sights on becoming a structural engineer.
Straight out of school, I obtained a job in that field with Boeing, where I worked for a little over two years. Enter the waypoint of my journey into geotechnical engineering: New Mexico. With my then-boyfriend's new job, I had to decide if I was going to move, too, and if I wanted to stay with structural engineering. I said yes to the move and no to the structural.
I sought input from a friend in the geotechnical engineering field and with her assurance that she enjoyed it, I discovered Kleinfelder, who happened to be hiring in the sparse geotechnical landscape of Albuquerque. My interview with Kleinfelder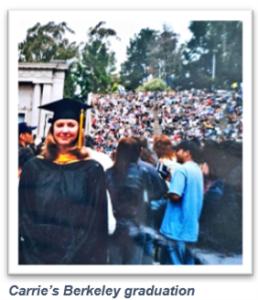 was fairly comical because they asked me two questions that I had zero answers for: 1) What's an Atterberg limit? and  2) What's an R-value? It had been close to five years since I had taken my geotechnical classes in college. So, I said, "I don't remember, but I promise I'm a fast learner." And they hired me! Our stint in New Mexico lasted only 10 months, after which we moved to the San Francisco Bay Area. I stayed with Kleinfelder and liked geotechnical engineering enough that I decided to pursue a master's degree in the field, which I attained at Cal Berkeley.
After I had my second child, I stepped fully into the role of stay-at-home mom. I did some consulting in the meantime and kept my toe in the water by staying in touch with contacts. By the time my youngest was starting kindergarten, I got a timely call from Kleinfelder asking if I wanted to come back to work.
So I tiptoed a little further back into the field, working part-time while the kids were at school. I was able to jump back in and I felt like I didn't really miss a beat. I eventually received an offer from my current firm, BSK Associates, that I couldn't refuse, and I started part-time with them as well. As the kids grew older, I was able to return to full-time work. I'm currently a geotechnical group manager for a small but mighty group in Livermore and technical lead for a team of about 30 people company wide. One funny thing about my current role is that I actually mentored my current boss ages ago when we worked at Kleinfelder.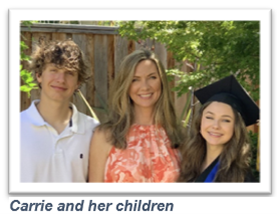 I feel it's important to share that I was a stay-at-home mom for six years and it was fine. Women always tell me they feel like they can't stop, and they can't have kids, and it would be looked down upon, etc. But I did it. And if you're a good employee, they'll want you back.
Advice to New Geoprofessionals
Some advice I'd give to geoprofessionals who are new to the industry is:
• Be open to new experiences. Don't be afraid to get dirty.
• Don't ever be intimidated by being the only woman in the room or being the youngest person in the room. Exude confidence.
• Never be afraid to ask questions. You'll learn something new every single day if you're open to it.
• Keep your mind open and look for the lesson learned in every task, even and maybe especially the ones that seem "menial." You might not be able to see the lesson until it's over.
Some of the best clients are born from difficult situations if handled correctly. I learned this from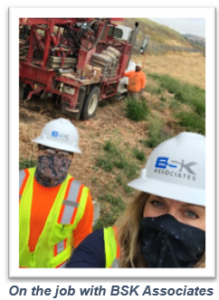 GBA Executive Director Joel Carson when he worked at Kleinfelder. He was the face to a lot of clients and he was the one who would get yelled at when things went wrong. So, he made some valuable clients through his handling of those difficult situations and that's held true to this day:
If you handle it correctly, those things that keep you up at night can actually make you the hero.
Impact of GBA
What really encapsulates how GBA has impacted me is that it has broadened my perspective of what it means to be a geotechnical engineer. Being involved with GBA has helped reinforce that it's not just about the technical work, it's about being a consultant and a trusted advisor.
Also, the resources provided by the GBA are so useful to my entire company and especially the younger staff to help give them that broader sense of what it means to be a geoprofessional. Selfishly, it's given me amazing contacts in the geoprofessional industry. I have met people I never would have met, and they've been key in forming me as a leader.
Getting involved with GBA and making presentations at their events helps set you up as an industry leader and it will get you recognized by others in the industry, which will open doors to incredible opportunities.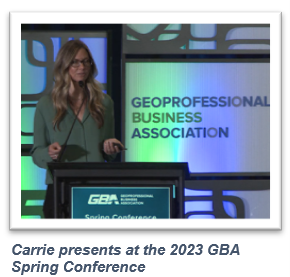 My last piece of advice to all those reading this is simple, but heartfelt: Get involved and stay involved with GBA.
You never know where it's going to take you.
GBA Awards Committee
GBA is excited to announce the 2024 Woodward L. Vogt Project Excellence Award. Applications are now open.
With this prestigious award, GBA will recognize some of the most outstanding projects by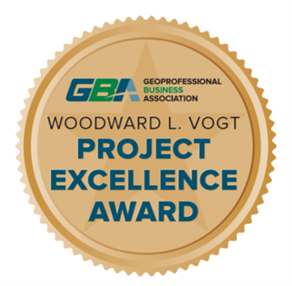 its members who live and demonstrate the vision of GBA to great accomplishment. Winners of this award will truly showcase their hard work and contributions to society in front of all their peers, clients, and other professionals from across North America.
Entries are judged based on the application of lessons learned from GBA membership; creativity and innovation; quality of deliverables; and leveraged project impact such as sustainability and community improvement.
Winners will receive a plaque, be recognized at GBA's Annual Awards Ceremony in April 2024, and will present their project at a future GBA conference.
The deadline for applications is January 31, 2024.
GBA Board of Directors
The GBA Board of Directors has initiated the strategic planning process as we look forward to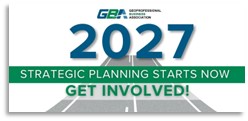 2027 and beyond. Every three years, the Directors seek input from members to review important industry trends in risk management and business optimization, evaluate member value, and identify objectives that are critical to the health and success of geoprofessional consulting firms. Their efforts culminate in the formation of a strategic plan that guides initiatives, programs, and resources to benefit our members.
GBA has engaged with long-time partner, Marketing General, Incorporated (MGI), a leader in association membership strategy and marketing. The first step in the strategic planning process is to gather information from members through a remote Bulletin Board Focus Group (BBFG) to gather detailed responses from a small group of participants. As this type of research is qualitative, the questions are asked in an open-ended format to extract in-depth information. Similar to a traditional focus group, the moderator will probe the participant's responses with follow-up questions to obtain data at a more granular level.
In the next two weeks, GBA will be seeking BBFG participants to provide input that will be considered during the formation of the 2027 Strategic Plan during the Summer Board Meeting in April 2024. If you are interested in sharing your thoughts as a focus group participant, please contact Joel Carson, GBA's Executive Director.
View GBA's current strategic plan: 2024 Strategic Plan
GBA President Matt Moler, P.E. (S&ME)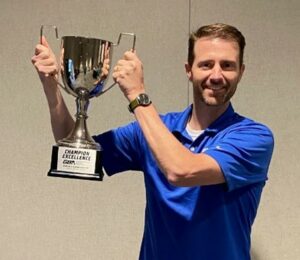 As I continue my GBA presidency, I reflect on the role GBA has played in my life over the past 15 years.I first crossed paths with GBA back in 2007 – it was still known as ASFE at this time. My employer,S&ME, asked me to enroll in the Fundamental of Professional Practice (FOPP) course, where I was exposed to numerous business optimization and risk mitigation measures (topics I never learned in engineering school!) and I soaked up the new knowledge like a sponge.
What really hooked me was GBA's concluding FOPP seminar held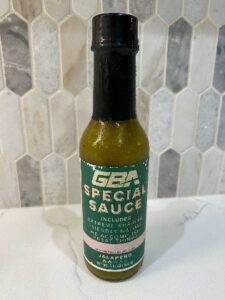 outside Denver. There, I encountered a tremendous network of fellow geoprofessionals – classmates and practitioners giving back to their profession – from across the country.  I left the seminar eager to delve further into GBA so I could continue to improve my business acumen and expand my professional network. It was exactly what I was looking for at that point in my career and served as a launchpad for the next 15 years. I had a taste of the GBA "special sauce" and I was hooked and craving more.
About two years later, GBA was preparing to launch its second class of Emerging Leaders, and S&ME's then-President, Randy Neuhaus graciously nominated me for the class.
Each class of GBA Emerging Leaders chooses a project to collaborate on from inception to completion. Class 2's project was focused on several recently launched social media platforms (such as LinkedIn, Twitter, and Instagram). GBA wanted our class to help them get engaged with this new technology. Looking back, it's hard to imagine a time these platforms weren't part of many people's daily lives and a cornerstone of business communications and marketing.

Our class members bonded quickly and with our collaborative spirit and zeal, we raised awareness on these exciting new social media tools to promote our individual businesses, and to promote the many benefits of GBA. Our Emerging Leaders Class completed its tenure after two years, after which many class members became engaged with serving on GBA's Committees.
I was immediately intrigued by and joined GBA's Business Practices Committee, which discussed the many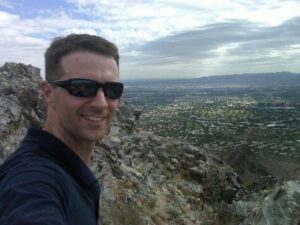 business-related subjects that directly impact our firms. I came away from each meeting with information to improve my own business practices, as well as ideas that could be implemented across S&ME.
At one of my first meetings, Committee members talked about creating a cell-phone-use-while-driving policy at their firms. I mentioned some things my company was doing and before you know it, I was asked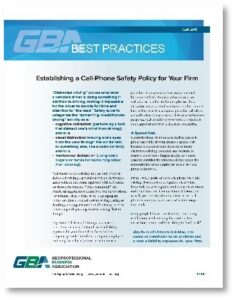 to prepare a Best Practices document on the subject (funny how that works!). I was thrilled to be able to contribute to the organization that had given me so much and play a small role in creating  safer practices for geoprofessionals.
I gradually stepped into leadership roles in the Committee and every experience filled me with more opportunities, challenges, and benefits from active involvement with other geoprofessionals from across the country.
Woody Vogt, GBA's President at the time, asked me to join the GBA Board of Directors in 2018. The GBA Board is the first I've served on in any organization, so learning the role of a Board and how I could best serve the organization were paramount. I believe our profession is worth fighting for and worth the time and effort to make it better, so I accepted the nomination and was ready to take on new challenges.
My efforts on the Board have varied over the years, but consisted of the following: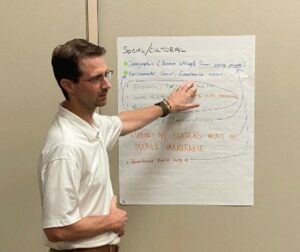 • Board Liaison for several Committees,
• Program Committee member responsible for planning several wonderful conferences,
• Mentor to the Emerging Leaders Class 4,
• Champion of several GBA Strategic Plan objectives,
• Secretary Treasurer,
• President-elect, and now
• President.
My GBA journey has been a fulfilling experience so far and the rest of my time as President is likely to be full of rewarding opportunities, as well. I have benefited tremendously from GBA's many resources (publications, webinars, conferences, podcasts), Committee and Board leadership opportunities, and close friendships.
Speaking of close friendships, I have developed some of the most meaningful personal connections over the past 15 years with numerous individuals across GBA. Not only have we attended conferences and worked on the Committees/Board together, we've fished, golfed, biked, ridden ATVs, boated, swam, honky-tonked, and visited some of the most amazing places across this great country of ours. Our family members know each other as well.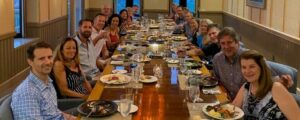 To sum things up, I love it that our members come together regularly and talk about the best practices, the wins, the scars – it's all on the table. There is no other organization that combines such value and opportunities to help improve ourselves and our business. It's what makes up GBA's Special Sauce!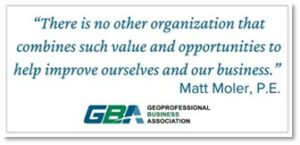 I've shared my GBA journey with you in the hope that it inspires you to get involved in GBA. Volunteer for leadership opportunities. Speak up and share your opinions. Meet others that are passionate like you. And try to make an impact!
GBA gives so much, but you've got to give a little. You've got to be willing to join a Committee or go to a conference. Take notes and ask yourself, "What's the one cool thing I learned from this presentation that I can apply at work tomorrow?" Be active, because then you get more out of it. It's like a cup that keeps overflowing – that's what GBA is. They continue to fill up my cup. So, I keep giving because I know I'm getting a two- or three-fold return.
GBA has been a wonderful organization for me over the past 15 years, and I'm very grateful for those experiences.
Thank you, GBA, for this amazing GBA journey!
Editor's note from GBA Executive Director Joel Carson: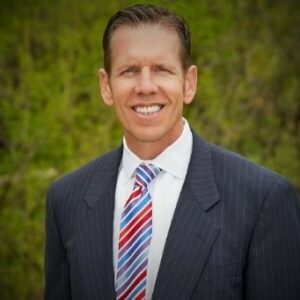 "Having worked with Matt for several years and now more regularly as he has been GBA's President, I admire his          sincerity and thoughtfulness as a leader. He makes sure everyone's voices are heard and can build consensus on issues by bringing different perspectives together and focusing on the GBA's strategic direction. He is also very creative as evidenced by his bringing GBA's Special Sauce to reality, something none of us will forget. All that being said, Matt is simply someone everyone enjoys spending time with because he contributes positively in all situations."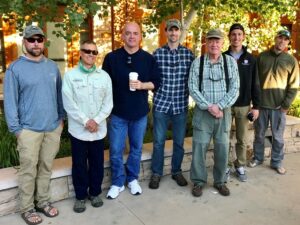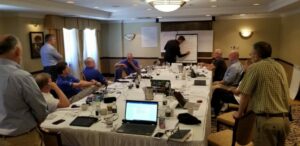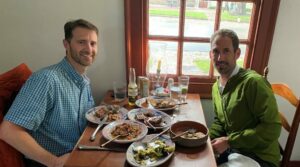 Cassandra Langley, GBA Communications Specialist
Broadcast events may seem like the holy grail for multitaskers – you can theoretically maintain your regular,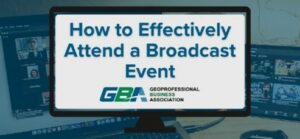 full workload, while also soaking up new information from speakers. You can keep one eye on your emails,  one ear on the current conference speaker, and one foot out the door for your next on-site meeting.
However, fragmenting your focus doesn't do yourself or your firm any favors. Conference organizers and event venues go to great lengths to ensure meetings can take place with minimal interruption, but broadcast events lack the spatial control to do so. It's important to implement a few best practices for attending a broadcast event so you can make the best use of your time and get the most out of the conference. Here are some ideas:
Make a pre-event plan. What are your goals for the event? Do you want to make connections? Get new ideas to present to your firm? How do your personal goals for the event fit with your career aspirations?
Tell your supervisor, coworkers, and/or mentor you're attending a broadcast event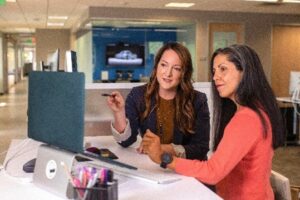 and show them the agenda. Your supervisor can help you align your event goals to your career path. They may encourage other employees to register to attend with you.
Consider leaving your office to go to a favorite local remote working spot. A quiet corner of your local library will have minimal distractions and will take you out of your familiar setting (without having to completely leave town) just enough for you to remember what you're supposed to be focusing on.
Set busy time on your calendar so no one requests meetings. In many cases, event platforms will integrate with your work calendar so you can add sessions seamlessly, but you can also do this manually by blocking out the entire day or just the times you will be actively attending a session.
Share on social media that you're attending the event,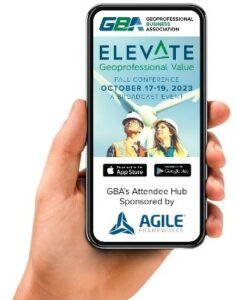 along with a link to the event's webpage for more information. Ask event organizers if they have a graphic they can send you or if you can use the event logo to go along with your post. Not only will this help support the organization and event, but it will also make it easier to connect with others in attendance and strengthen your professional network.
Explore the event platform or website before the event begins. Get familiar with where to find speaker information, session descriptions, the agenda, discussion groups, and resources. Many times, we plan to circle back to resources after the event but quickly get swept away with other duties and demands.
Close your office door and place a "Do Not Disturb" sign on the outside, or at the entrance to your cubicle or workstation. An open door invites visitors and allows outside noise and activity to pull your focus.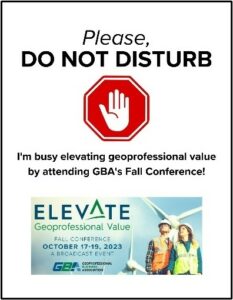 Here's a sign we made for GBA Fall Conference attendees.
Use headphones. Even if your surroundings are quiet, headphones help narrow your focus and stay engaged during the broadcast event.
Take notes during sessions. You can write down notes in a notebook (plan this beforehand so you're not scrambling for sticky notes as a speaker is presenting). Start with a fresh, blank page and pen ready to go. Studies have shown that we remember things better when holding a writing utensil!
However, with handwriting going the way of the mechanical pencil sharpener, taking notes on your laptop or other device is better than not taking notes at all, so type away.
Create a new Word document dedicated to your event notes and list out the sessions you're attending in advance, along with the speakers. This makes it easy to follow up with questions or comments during or after the presentation. You can also use the built-in notes apps on macOS and Windows for easy recordkeeping. If you have dual monitors at your workstation, have one screen dedicated to your event notes and the other dedicated to the presentations and sessions.
Silence notifications. You can silence all notifications on your phone or select apps.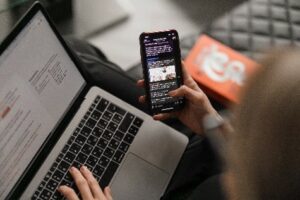 Here's how to do this on an iPhone and an Android. You can set a schedule or set them to remain silent until you turn them back on.
Get up and walk around between sessions. Many broadcast events leave time between sessions, like in-person events do. Take this time to pop out of your office and do a lap around the building or your home. Grab a snack. Getting your blood flowing will help restore your zeal for the next session. Both broadcast and in-person events can be draining as you try to retain so much new information.
After the day or each session, make a note about your favorite thing from the day – what was most relevant to your job? What's one thing you can take away and start using immediately? What's something you need to tell a coworker about that may help them? How can you apply the new insights gained within your firm?
Participate in the chat sessions so other people see your name and can connect with you, too. Treat the event like the interactive experience that it is.
Don't shortchange yourself because you're attending an event online rather than in-person. You can get just as much value out of the educational sessions, group discussions, and networking opportunities as you can attending an event in a physical location in the company of others. Use a few or all of these ideas to maximize your time and financial investment.
GBA's Fall Conference – a broadcast event –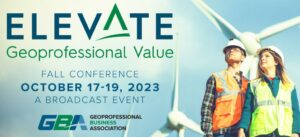 begins October 17 and it's not too late to register! Learn more.
Legal Affairs Committee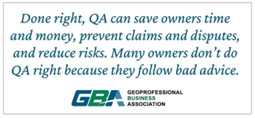 GBA has released an updated document designed to provide guidance to civil and structural engineers on how   to communicate the value of qualified CoMET consultants to owners. When owners don't do quality  assurance right, a project's civil and structural engineers may face just as much risk as the  owner and project geoprofessionals. GBA encourages project design professionals to explore this message with information they can pass on to owners to help all parties lower their risks.
This updated guidance helps geoprofessionals display and elevate their value as part of the project team by: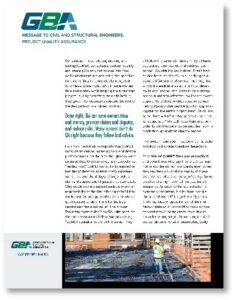 • dispelling myths and confronting dangerous misconceptions about CoMET consultants and their services and fees,
• laying out how CoMET consultants can serve actively on projects from beginning to end (and why it's beneficial for them to do so), and
• explaining how to avoid significant risks on a project.
Civil and structural engineers should encourage owners to rely on CoMET professionals to help manage project risks.
GBA is committed to promoting the value of geoprofessionals and for our 2023 photo contest we asked members to share: "How do you depict a day in the life of a geoprofessional?"
Sixty photographs were submitted this year and through the images captured, the pride of geoprofessionals was on full display. We think you'll agree: These vibrant photos capture members in field activities, meeting with colleagues and clients, and observing safety in some amazing locations.
All winners' photos will be featured during the 2023 Fall Conference in October.
Thank you to everyone who submitted photos this year!
                                                                                                   Grand Prize Winner
Photographer: Jack Powell, PBS Engineering and Environmental Inc.
Location: Salt Creek Falls, Lane County, OR
Caption: PBS Engineering and Environmental Inc. (PBS) teamed with Bratslavsky Consulting Engineers, Inc. to support the US Forest Service in evaluating and designing improvements to the Salt Creek Falls day-use area. This included characterizing subsurface conditions to develop recommendations for anchoring new handrail posts at the main waterfall viewpoint area as some of the existing, wooden posts had begun to decay. PBS also helped develop recommendations for mitigation of localized erosion beneath the pedestrian railing just beyond the waterfall overlook. Due to the late season snow and limited access, PBS subcontracted with PLI Systems of Hillsboro, Oregon to use a small drill rig capable of maneuvering in tight spaces that was able to collect rock core.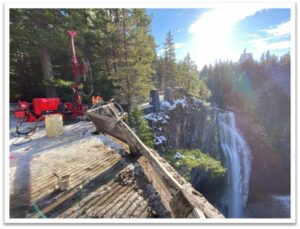 Overall Runner-Up
Photographer: Gyan Bade, Hillis-Carnes Engineering Associates
Location: Frederick, MD
Caption: This is a picture from The Frederick News-Post job site. Early morning concrete pour; 370 cubic yards.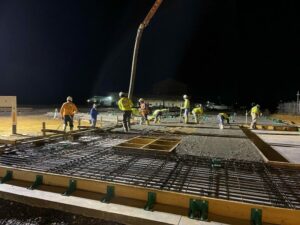 Category Winners
                                                                                                            Safety Category
Photographer: Sam Venable, P.E., Earth Systems
Location: Santa Barbara Airport, Santa Barbara, CA
Caption: Geotechnical engineering investigation and recommendations provided for development of project plans and specifications for the planned improvements of Santa Barbara Airport taxiways.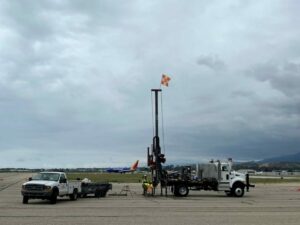 Client Collaboration Category
Photographer: Will Jones, G.I.T., ENV SP, ANS Geo, Inc.
Location: West Camp Wind Farm, Holbrook, AZ
Caption: Discussing the day's work as the sun sets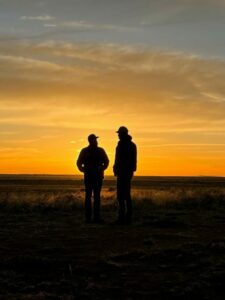 CoMET Category
Photographer: Luke Morrell, P.E., Blackburn Consulting
Location: Folsom Lake EID Intake Project, Folsom Lake, CA
Caption: Installing drilled shaft piles through rock to support a new intake pipeline.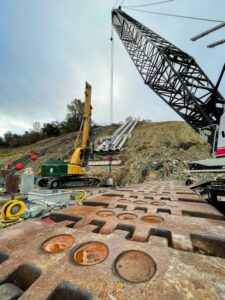 Environmental Category
Photographer: Torre Davy, Sanborn, Head & Associates, Inc.
Location: Hoosic River, Adams, MA
Caption: Surface water sampling in the Hoosic River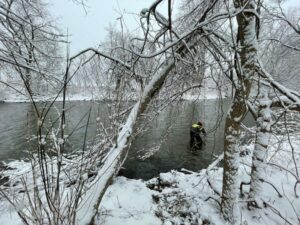 Geotechnical Category
Photographer: Bruce Jackson, Jorgensen Geotechnical
Location: Jackson Hole Mountain Resort, Rendezvous Mountain, Jackson, WY
Caption: Geotechnical drilling to assess rock quality at the top of the aerial tram at Jackson Hole Mountain Resort.

Cassandra Langley, GBA Communications Specialist
No matter the level of AI adoption in your firm, you're likely encountering it on a day-to-day basis, whether you know it or not.
With more AI-written content feeding online news sources, it's become important to distinguish between what's written by something like ChatGPT and what's created by humans.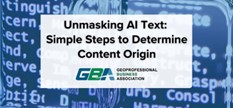 This is not to say that AI-written content can't be educational and useful – only that it's important to know the source of information you're digesting, especially if you plan to disseminate it to a wider audience of industry experts, like we do with NEWSlog. When content makes our AI-detecting "spidey sense" tingle, we use a free online AI detector tool to contribute to the decision-making process of which articles to include in the newsletter.
Using this article as an example, SEE A VIDEO DEMONSTRATION OF  HOW WE DO IT. (*Not an endorsement of copyleaks.com)
Multimedia Delivery Committee
GBA is celebrating today as the GBA Podcast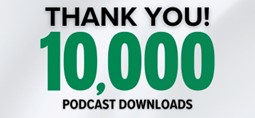 has reached a momentous milestone of 10,000 downloads. GBA podcasts present information and expertise from geoprofessionals around the globe to provide their peers with wisdom and insight to optimize their business and reduce risk.
"This exciting achievement stands as a testament to the growing popularity and influence of the podcasts, which were launched with the mission to enrich the educational landscape and extend GBA Member-Firms' valuable insights to geoprofessionals," said Multimedia Delivery Committee Chair Tiffany Vorhies, NACE CIP2 (SME).
GBA podcasts were the brainchild of GBA's Emerging Leaders Class 4 in 2020.
"We created the GBA Podcast to make the educational opportunities and resources provided by GBA more easily accessible, portable, fun, and engaging," said Vorhies, a member of Emerging Leaders Class 4. "You can download, listen, and learn from anywhere."
GBA podcasts include multiple series, such as:
• Audio Education for Field Representatives
• Case Histories
• Diversity, Equity & Inclusion
• Encore Performances
• COVID Concerns
"If you haven't already, please download a couple episodes and let us know what you think," said GBA Multimedia Delivery Committee Co-Vice Chair Ryan White, P.E., G.E., F.ASCE (PBS Engineering and Environmental Inc.). "And if you have already subscribed, re-download your favorite episode and listen again. You'll learn something new each time you listen. We appreciate your support!"
The five most-listened-to podcast episodes to date are:
1. Case History #64 – Good Communication is Key to a Successful Project!
2. Audio Education #1 – Field Representatives and the Law
3. Case History #108 – Out of Scope Assistance Causes Problem
4. Audio Education #2 – The Duty of Care
5. Case History #103 – Nuked in the Bud!
"I'd love for geoprofessionals to engage with GBA on social media posts about the podcast episodes and tell us if you listened, what you like, and what you want to hear more of," White said.
"The success of the GBA Podcast is a shining reflection of the planning, management, and enthusiasm that GBA members carry into everything they do," said GBA Executive Director Joel Carson. "It's also a testament to the collaborative spirit that GBA promotes among geoprofessionals and a fulfillment of our members' demand to deliver important topics as easily downloadable audio content."
Legal Affairs Committee
GBA has released an updated document that is designed for distribution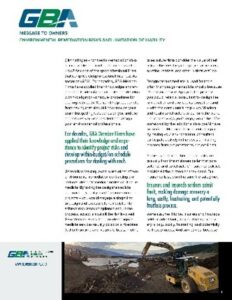 to clients for environmental services. This document explains how risk allocation is an important element of risk management, and that limitation of liability is a highly effective technique for risk allocation.
Some owners treat their project risks too casually from the mistaken belief that consultants' and constructors' insurance policies provide all the protection they need. But insurance is seldom the sure-fire safety net some assume it to be. Insurers and insureds seldom admit fault, making damage recovery a long, costly, frustrating, and potentially fruitless process.
Limitation of liability does not limit something that otherwise is unlimited – because no geoprofessional   has unlimited assets.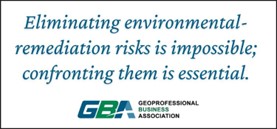 Limitation of liability is fair and reasonable, can result in lower project costs, and can encourage design excellence.
This updated document emphasizes that high quality is perhaps the most effective means for managing overall risk – and high quality begins by retaining a qualified geoprofessional.
GBA creates unmatched succinct, targeted resources that meet the unique business needs of geoprofessionals. These exclusive educational resources help GBA members run their businesses better and deal effectively with business and professional-liability risks. Some resources are also available for purchase to non-members.
DOWNLOAD THIS DOCUMENT NOW (GBA members only)
Multimedia Delivery Committee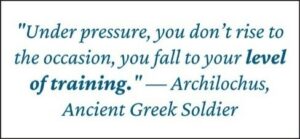 As geoprofessionals, owners rely on our oversight to ensure that projects go according to plan. But too often, we encounter obstacles that can potentially derail operations, jeopardizing partnerships and public safety in the process.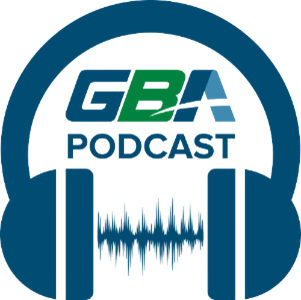 In the latest installment of the GBA Podcast – the Audio Education Series – hosts Tiffany Vorhies, NACE CIP2 (SME) and Ryan White, P.E., G.E., F.ASCE (PBS Engineering + Environmental) address some of the most challenging aspects of field representation. From navigating business relationships to forming prudent field reporting habits, this series contains helpful insights for the novice and seasoned pro.
Episodes in the Audio Education series include:
• Briefing and Being Briefed
• Safety
• Personal Diplomacy
• Effective Reporting
• The Duty of Care
• Field Representatives and the Law
Beyond the Audio Education series, GBA Podcast episodes also include fresh looks at Case Histories, a series on Diversity, Equity, and Inclusion, and other important topics for geoprofessionals presented in an accessible, portable, and engaging format.
GBA Business Practices Committee
Do you charge for changes?
Many geoprofessionals struggle when changing conditions or project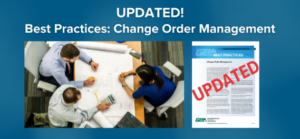 scopes result in change orders, finding it difficult to submit legitimate payment requests for legitimate services to their clients. Effective communication with your client can make or break the client-consultant relationship and affect future profitability.
This document will help you learn how to effectively communicate project changes, considering elements like timing and who and what to include in change documentation, with an understanding that different clients respond differently to change orders.
The benefits of effective change order management include:
• Enhanced service quality
• Stronger client relationships
• Fewer surprises
• Appropriate profit
• Better communication
• Improved company morale, and
• A better future.
Don't miss out on a chance to improve your business through better management of change orders, including the exponential potential of turning a new client into a decades-old relationship/partner.
DOWNLOAD UPDATED BEST PRACTICES: CHANGE ORDER MANAGEMENT
The GBA Best Practices series of documents, available to members only, provides guidance on geoprofessional business-practice issues. As indicated by the name, Best Practices is a combination of great ideas and proven actions our members have gathered through collaboration into one document.
GBA Best Practices documents are free for all members.